COMPLETE DENTAL CARE
Whether you require urgent care for the relief of pain or more comprehensive care to restore the health, function or appearance of your smile. Our complete dental care approach allows us to recognise and provide as little or as much dentistry that is required to meet your needs.
CHILDREN'S DENTISTRY
Our team enjoy seeing children. We have an Oral Health Therapist who is specifically trained to treat children.
TOOTH COLOURED FILLINGS
We use tooth coloured fillings to repair broken or decayed teeth. The extent of missing tooth structure dictates the choice of material.  A composite resin can be used to restore small to medium holes. If more than 50% of the tooth structure has been lost, it may be necessary to consider a ceramic material to help reinforce the tooth.

ROOT CANAL TREATMENT
Painful teeth that are badly damaged (due to decay or injury) may be saved by undergoing a root canal treatment. This is a process where the infected or inflamed nerve tissue is removed. The resulting space is then cleaned and filled.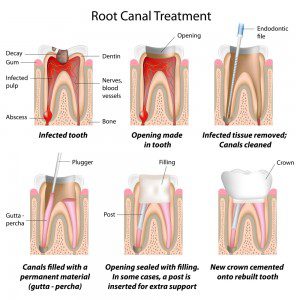 EXTRACTIONS
There is sometimes a need to remove a tooth due to pain especially if it is severely broken down, lost a lot of supporting bone or is impacted due to lack of room.
CROWNS
A crown fits over the existing natural tooth and is designed to repair and reinforce teeth that have been severely weakened by decay or have had a root canal treatment.  They can also enhance the appearance or function of the tooth depending on the position of the tooth being crowned.

MISSING TEETH REPLACEMENT
Replacement of a missing tooth or teeth can improve the appearance or function of your bite depending on the position of the space. There are a number of options available:
IMPLANTS
An implant tooth replacement is the most conservative fixed option. It replicates the natural tooth by not having to rely on the adjacent teeth to keep it in.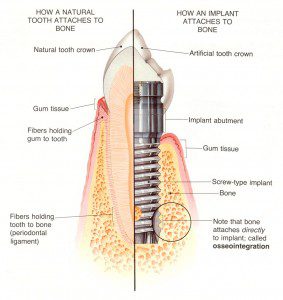 BRIDGES
Bridges are a less conservative fixed option as they rely on anchoring to the adjacent teeth. This is usually achieved through the provision of crowns on either side of the space.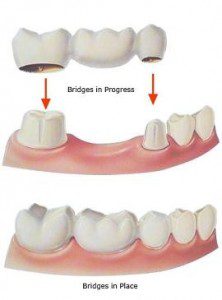 DENTURES
A denture is a removable appliance and is the most cost effective way of replacing missing teeth.
SOFT TISSUE LASER
The soft tissue diode laser can be used in a number of applications from the efficient removal of excess gum tissue to symptomatic relief from mouth ulcers.