Dentures – What You Need To Know Part 1
Dentures which are commonly known as "false teeth" or in dental terms a "Prosthesis" are a custom designed removable plate or frame constructed to replace one or more teeth. They make a great alternative to your natural teeth. Dentures are usually made of acrylic, metal or a combination of both. Millions of people worldwide wear dentures, and despite the usual though that only your grandparents or someone of that age wears dentures this is not the case, relatively young people, the elderly and anyone in between may wear dentures.
As our teeth age, deteriorate, crack, develop severe gum disease or are missing in the first place there may be a need to wear a denture. Dentures maintain normal chewing, your full bite (occlusion), speech and the original appearance of your upper and lower jaws and facial structures.
Types of Dentures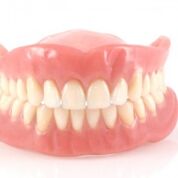 Full Denture
A full denture is a removable prosthesis made when all your natural teeth are missing either on the upper jaw, lower jaw or both. A full denture is supported by the surrounding soft and hard tissues of the mouth. Full dentures are made of an acrylic material.
Partial Denture
A partial denture is made to replace one or multiple teeth missing on either the upper or lower jaws. A partial denture is usually held in by clasps that are secured to nearby natural healthy teeth. Partial dentures are usually made of either acrylic, metal or a combination of both depending on the best option your dentist recommends for you.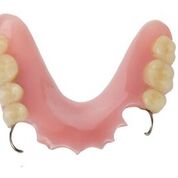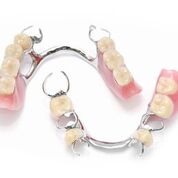 Immediate Denture
An immediate denture is a denture created to be inserted on the same day/appointment the tooth/ teeth are removed. The denture is fitted straight away which allows the patient to avoid a time period without teeth.
Flexible Dentures
Flexible dentures are a type of partial denture. Most flexible dentures are made of a thin thermoplastic material such as nylon, they are not made with any metal and do not require metal clasps like ordinary partial dentures. Flexible dentures are held in instead by a clasp that wraps around the neck of the tooth blending in with your natural gum colour making them a more visually pleasing denture.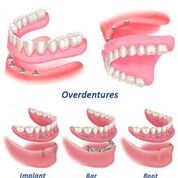 Over-denture
An over-denture is a denture replacement that fits over the top of either the remaining teeth, tooth roots that have had previous root canal treatment or dental implants. The remaining teeth or implants are used as an anchor to secure the denture in place.
Process of making a denture
Dentures can take up to 8 weeks to complete depending on the complexity of the case, the type of denture being made and the materials used. Each dentist and laboratory will have their own time frame and processes used to complete your custom made denture.
Dentures will have multiple stages before completion. Usually the denture process begins with your dentist taking an impression of the upper and/or lower arch with the remaining teeth (if any) using a special impression material, this impression is then sent off to the laboratory with the dentist specifications of the denture. There may be a need to do a secondary impression where a special tray is made in the laboratory to custom fit your mouth and a second impression is taken.
Next a wax version of the surrounding soft tissues is created where the dentist will try the wax in to make sure the bite (occlusion) is correct and the denture will fit tight and comfortable, at this visit a colour of the artificial teeth is chosen and matched in with either the natural teeth or in the case of a full denture a new colour can also be chosen.
A wax version of the denture with teeth included will be next, the dentist will fit the wax version in your mouth to make sure you are happy with the appearance, colour and fit of the denture. Once the dentist and the patient are happy with the denture it will be sent back to the laboratory to be completed.
Once the denture is completed and fitted the denture may need some minor adjustments, especially if there are any uncomfortable areas or sore spots.
Immediate Dentures
In some cases removing and replacing teeth can be planned which is where an immediate denture can be the best option. An Immediate denture is a denture that is put in 'immediately' after having a tooth/teeth extracted. An immediate denture can be made to replace as many teeth as needed, from one tooth all the way to all of your teeth.
An immediate denture can take up to the same amount of time to construct as a normal partial or full denture but some steps such as checking the fit and bite of the denture cannot be assessed properly because the teeth that need to be removed will still be present at the time of the dentures construction. Once the denture is completed the tooth/teeth will be extracted and the immediate denture will be put in straight away. When a tooth/teeth are extracted your gums will heal and shrink in that process as the bone in that area does not need to support your tooth/teeth anymore.
Most of these changes will occur during the first three months after the extraction process, due to these changes your denture may become loose and not fit as well as it should. A denture reline is when an impression is taken of the inside of the denture where it meets the gum tissues, this allows the laboratory to see where the shrinkage has taken place and allows them to then put a new base on the inside of the denture to fill in the space where the shrinkage has taken place.
At around 6 months your bone level should be fairly stable. An immediate denture has its advantages and disadvantages, your dentist will go through these with you to make sure you choose the best option for your specific case.
Advantages:
You will not have to walk around without teeth or with a gap in your smile.
You will have a better healing process as the denture stabilises the blood clots underneath.
The denture will trick your brain into thinking it still needs bone to support your teeth, resulting in less shrinkage in that area.
Your denture will enable you to continue to chew and functioning as normal.
An immediate denture is easily adjusted.
Allows the dentist to copy the alignment, colour and height of your exiting teeth to make the denture as natural looking as possible.
Disadvantages:
You do not have the luxury of a try-in stage.
An immediate denture usually will need a reline.
There is quite a lot of guesswork involved especially with a full denture.
You may need frequent adjustments.
You may need to use a denture adhesive to help the denture stay in place before a reline can be done.