Melissa Thorne – [Clinical Coordinator]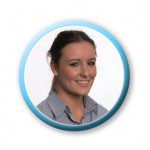 Melissa is the newest member of our dental team and works closely with the dentist in all stages of our patient's treatment. As an important member of this team she plays a role in helping to manage the efficient delivery of dental treatment and infection control.
Melissa is friendly and dedicated to making you feel as comfortable as possible by providing good quality care.
This year she aims to commence her certificate III in dental assisting.